As a family
With my family we decided to check out the Illuminations in Rochefort-en-Terre. This is an event that you don't want to miss during this end of the year period. Halloween passed, our thoughts are now directed towards the magic of Christmas.
Personally I love this kind of thing, the trees, the decorations and all these little lights that put us back in this fairy tale.
The smell of wine and hot chocolates, the laughter and these moments of sharing and joy. What I love about this time of year is the closeness to my loved ones, the desire to please and to give. It is another scenery of Rochefort-en-Terre to discover. It is night but all these lights are reassuring, it is cold but it is an atmosphere that warms our hearts.
Joy of living/h2>
The small alleys are not dark and make you want to venture out , it is a pleasant walk filled with delicacies. Children are happy and already dreaming of their presents, they try to catch the bubbles that fall from the sky, parents laugh and are happy to be together, surrounded by their families or friends.
The illuminations go all the way to the castle, the Naia Museum took care of illuminating the entrance to the park offering an atmosphere, which is their own, of an imaginary world.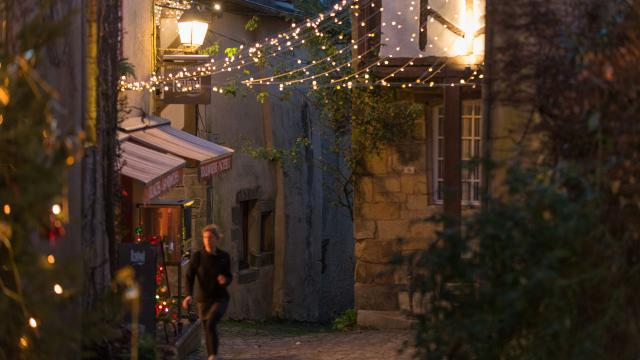 Magical moment
Everyone has a smile on their face, we let ourselves be tempted by mulled wine that gives off this pleasant festive and warm smell, and a kouign-amann forgetting how caloric this sweet is. But it doesn't matter, in this moment nothing can be negative, to please ourselves and to please others is the only desire that crosses our mind. We are in our bubble and do not want it to burst, hold this evening as long as possible.
We decided to go to the restaurant to extend this good time, this is not what is missing, there is something for everyone! The stomach full and stars in the eyes we returned promising to return next year.